How to Use the Online Collection
A Guide to Accessing the Harrogate Egyptian Online Collection
The Harrogate Egyptian Online Collection was created in 2023 in order to digitally allow access to this collection of objects with researchers and members of the public all over the world.

In order to help you find your way around the Harrogate Egyptian Collection, the following "how to search" guide has been created.
If you have any further difficulties, please contact [email protected]
1. From the home page, you can begin by typing into the search bar, which will provide some suggestions for the filter you may be looking for. In the example shown, I am searching for the deity "Anubis", and so I click on this option to show all objects associated with this god.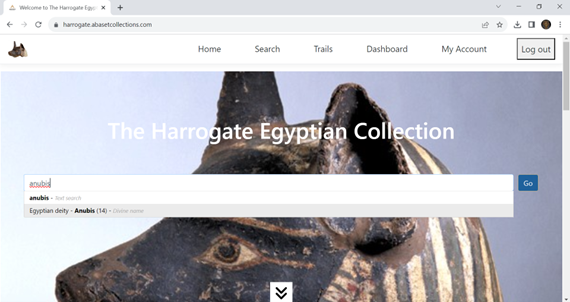 2. You will now see the selection of "Anubis" in the advanced filter bar. To the right, you can see that fourteen objects are associated. I then use the drop-down filters to help narrow down the search. You can see that within the various filter options, that "Divine Name" is highlighted in gold, showing that we have already set a filter for this field.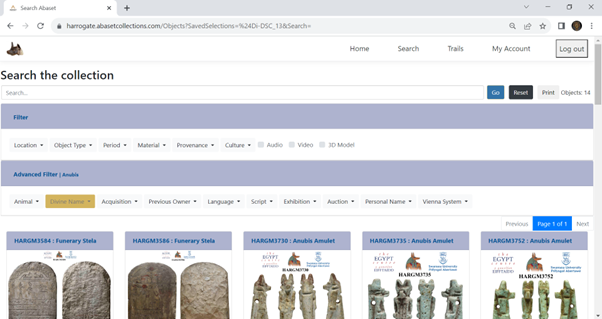 3. I will then choose the "object type" filter by clicking on it. You can then open the hierarchical levels by clicking on them. For this example, I will click on "religious or cult object" and then the subset "mask". I then press the enter key, or click on the "go" button at the top of the page.
4. I now have just one object associated with both the deity "Anubis", and the object type "mask". I can then click on the object to find out more.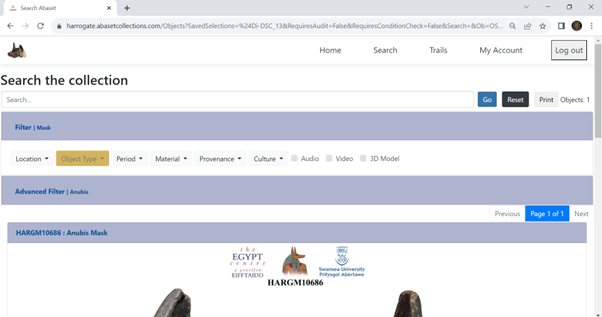 5. I've selected
the mask
to look at in more detail. I can see where in the museum it is located, what it is made of, I can enlarge the image, as well as learn about the object's history, amongst other fields. Where available, I can also view a video of the object, hear an audio description, read translations of any inscriptions present on an object, and much more.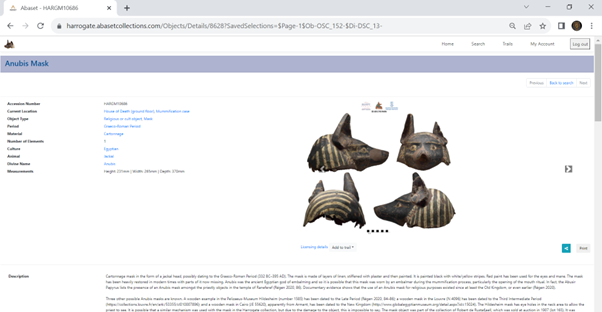 6. I can also share the object in a variety of ways by clicking on the "share" button and choosing email, Facebook, Twitter, Pinterest or "copy to clipboard".
7. For this example, I've now decided I'd like to see everything else dating to the Graceo-Roman Period. Wherever the data is highlighted in blue, it can be used as a search filter.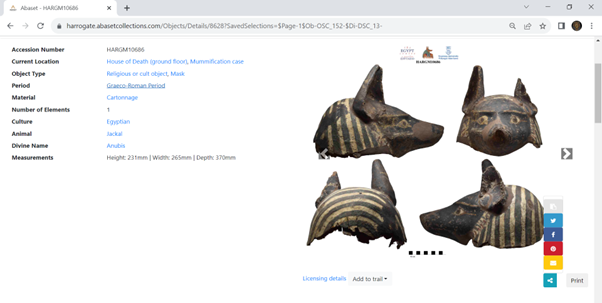 8. I click on that text, and I can then scroll through these sixty-one objects.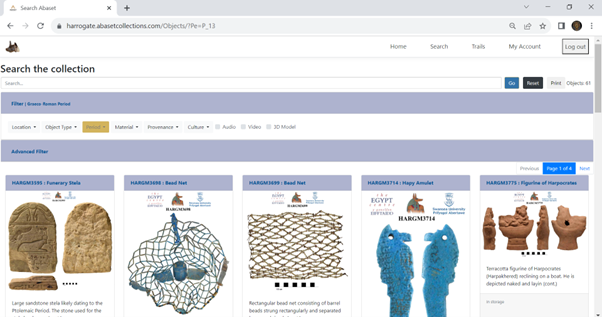 If you have any issues, please do not hesitate to
contact us
.